Terms & Conditions
All orders are subject to acceptance and availability. Sophia Marie reserves the right to cancel orders at any time. Items in your shopping basket are not reserved and may be purchased by other customers before the check-out process is complete.


All prices and orders are displayed and transacted in American Dollars $.
Sophia Marie reserves the right to change prices without notice.


From time to time, you may be given the chance to make an advance payment for certain items prior to their launch and/or arriving into stock.
(VIP MEMBERS, THIS MEANS YOU)
In this case, my Pre-Purchase facility allows you to order and pay for this item prior to its launch so that you will receive this item as a priority once it has been delivered into stock. Your rights regarding Pre-Purchase are the same as those for any other purchases on this website. All items available for Pre-Purchase will be clearly identified in the description for that item along with the expected date of delivery.  Alternatively, you may simply choose to register your email address for notification of arrival of the selected garments not held in stock. Items received into stock will be pre-allocated to satisfy Pre-Purchase orders a priority to customers on the waiting list, or customers ordering through the site for immediate delivery. Please be aware that in some circumstances we may be unable to deliver selected advance payment merchandise due to production problems or other issues identified when we receive an order into stock. In these circumstances, we will notify you by email and refund the advance payment to your credit/debit card within 14 days of being advised that merchandise has become unavailable. If you have registered your email address for notification of the arrival of a specific product featured on our site, I will attempt to notify you by email within 48 hours of the product becoming available on the site. Please be aware that on occasion certain products that are in particularly high demand may sell out during this period.
To process orders it is necessary to obtain your personal information. It is important for us that persons with whom I do business have confidence that I can handle information responsibly and it is my policy to do so. Except where otherwise legally appropriate I will treat your personal information as
private
. If you pay online using a credit card, the card details are not viewed by me or any person except you during the transaction. The details are encrypted and passed directly to the bank. I do not retain your credit card details.
At times Sophia Marie will use promotional codes to offer special discounts and offers online. These offers are only offered online and are valid within the period specified.  When placing your order, simply type the code in the promotional code box on the payment page and proceed to checkout by selecting Purchase Now. Sophia Marie promotional codes are strictly non-transferable.


INTERNATIONAL ORDERS - TAXES & DUTIES 
It is important to be aware that custom policies vary from country to country, with this in mind you may be subject to overseas custom duties and/or other taxes. If such costs do occur, they are payable by the recipient. To minimize any surprises please be sure to check with your local customs office for further information prior to finalizing your purchase.
FashionUnited - Spring 2023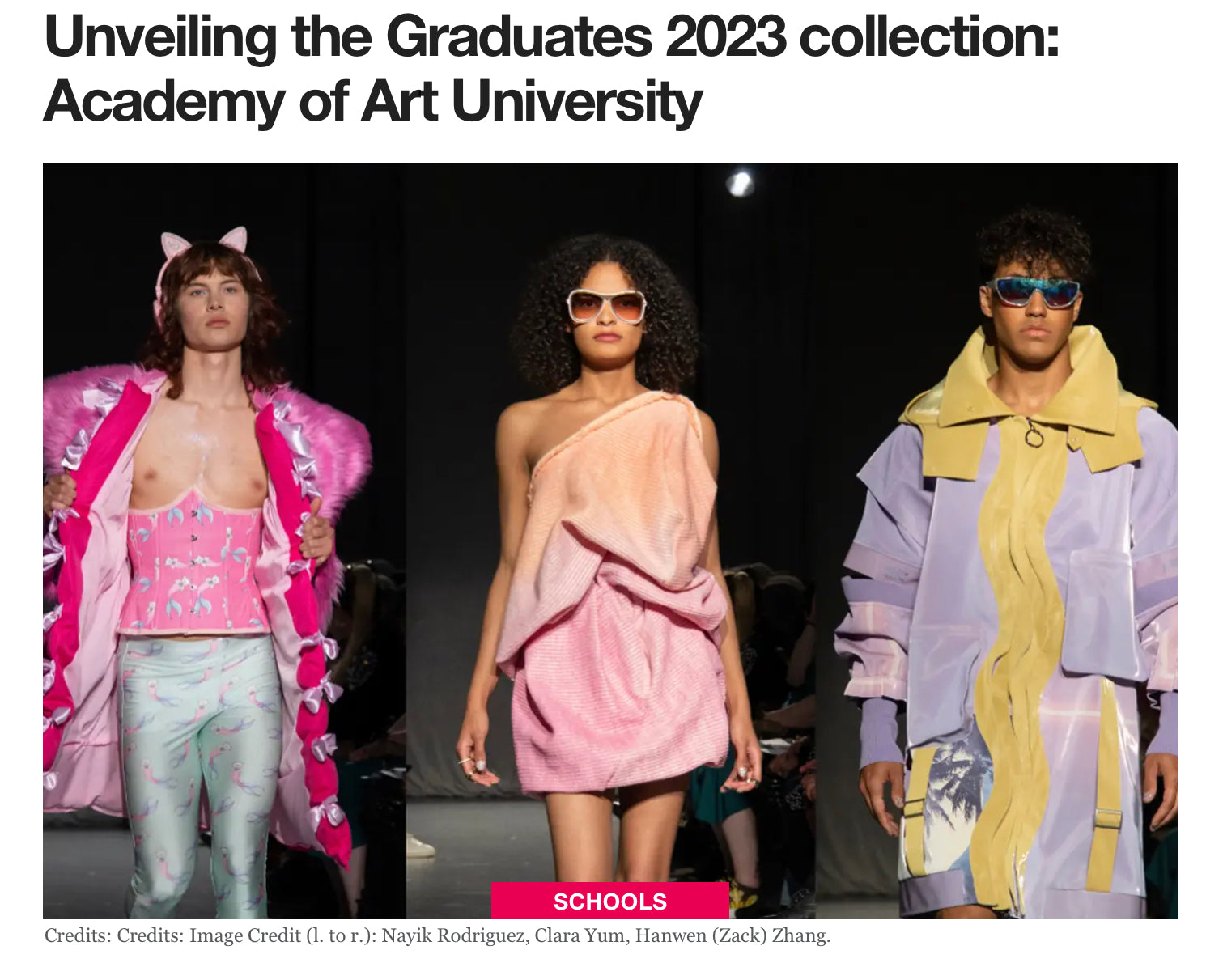 Slow + Sustain Magazine - Fall 2022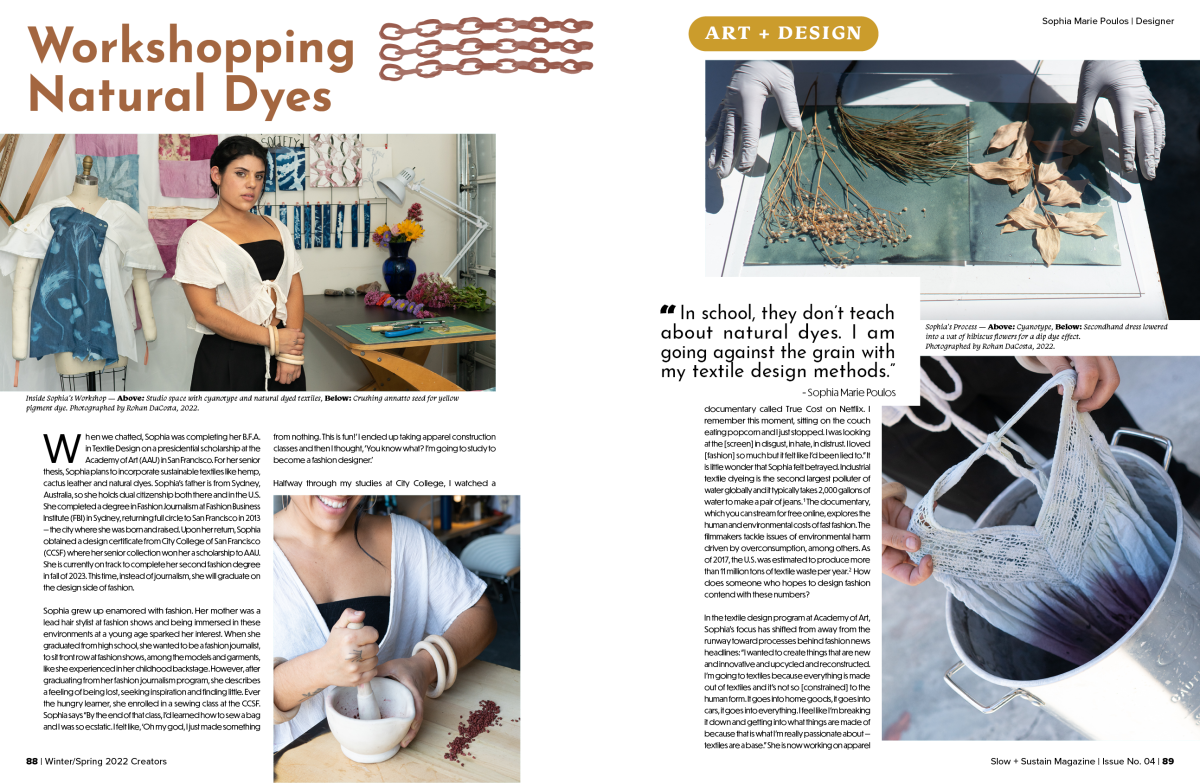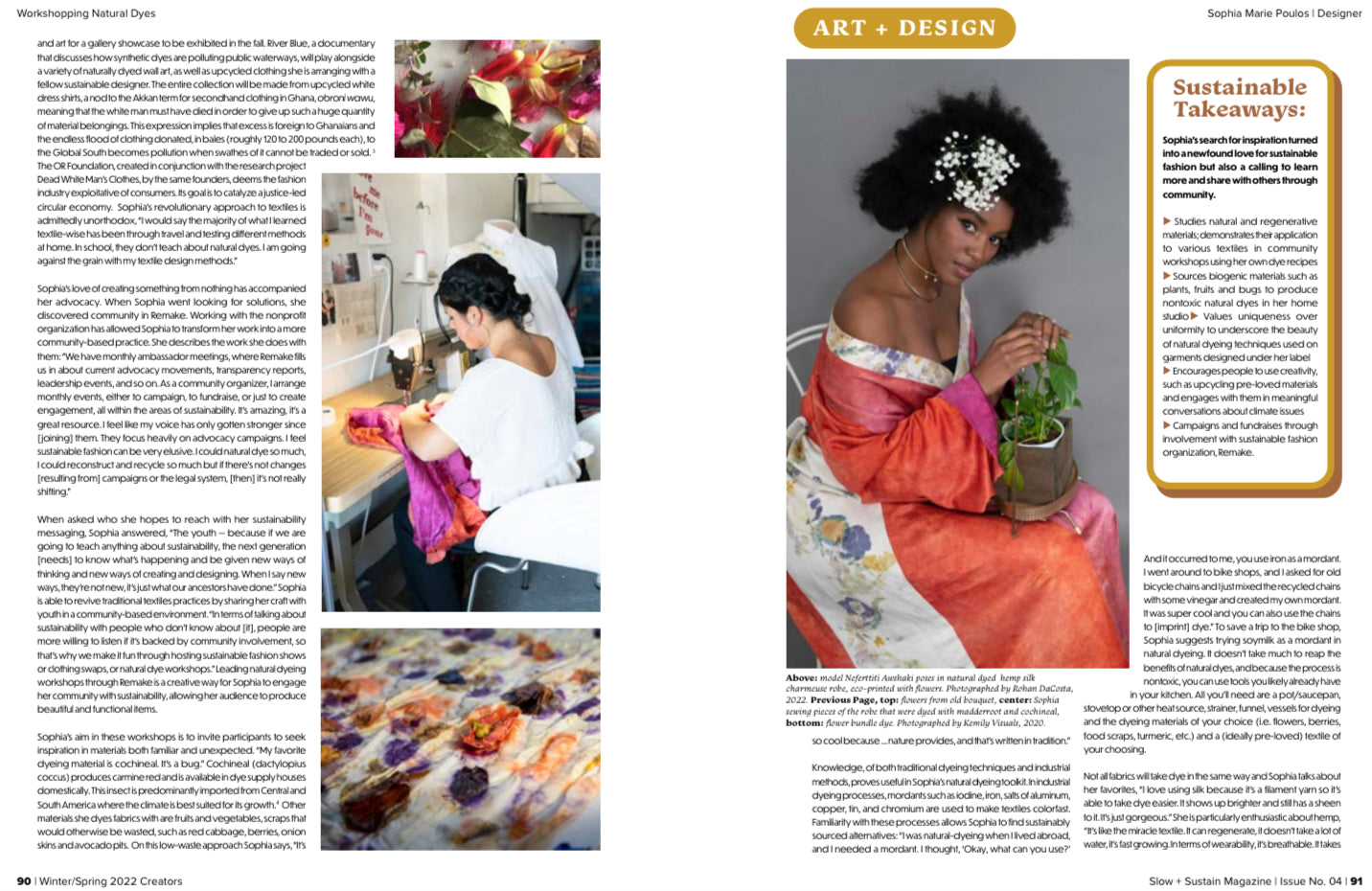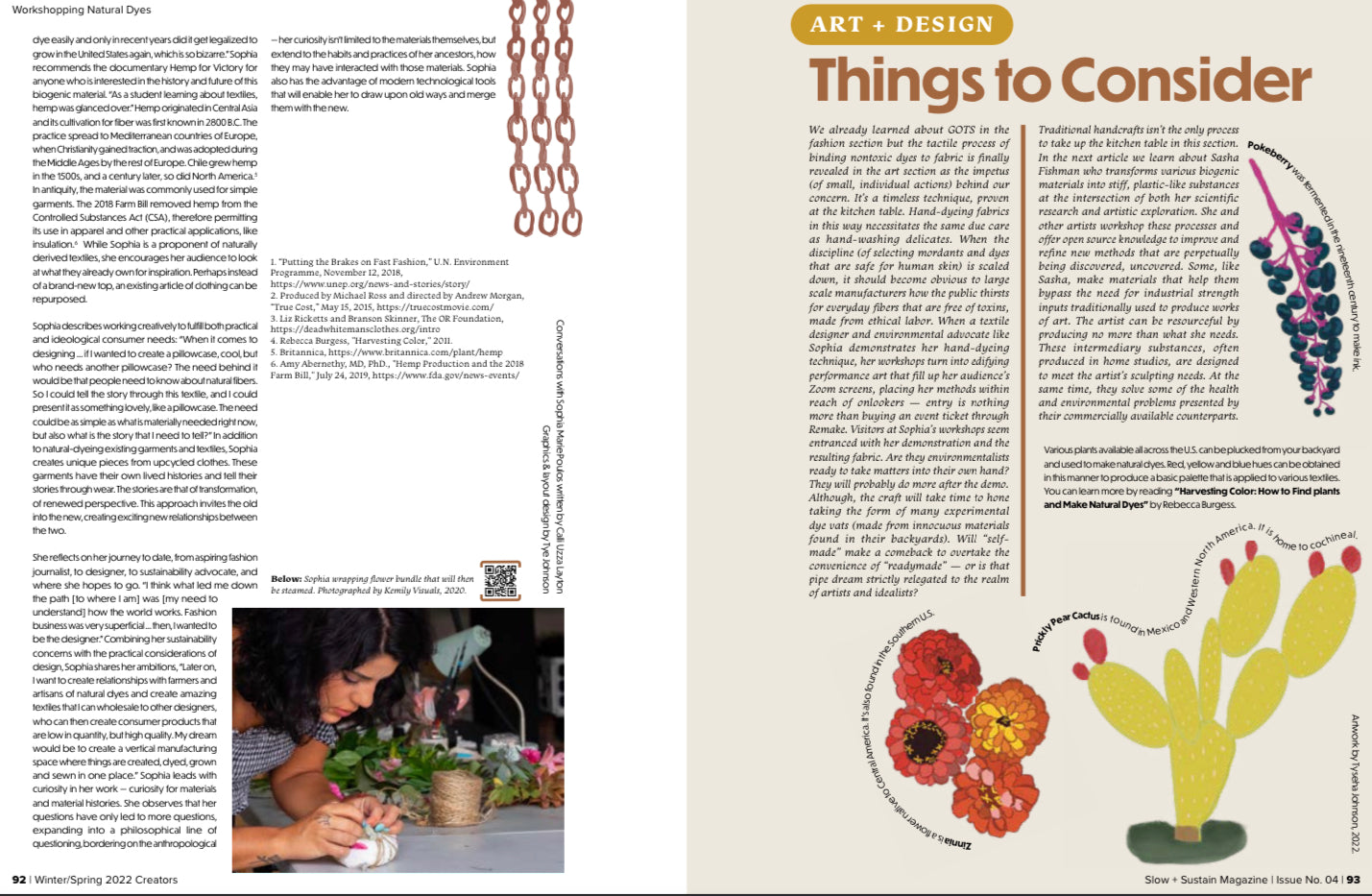 ETC Magazine - Spring 2019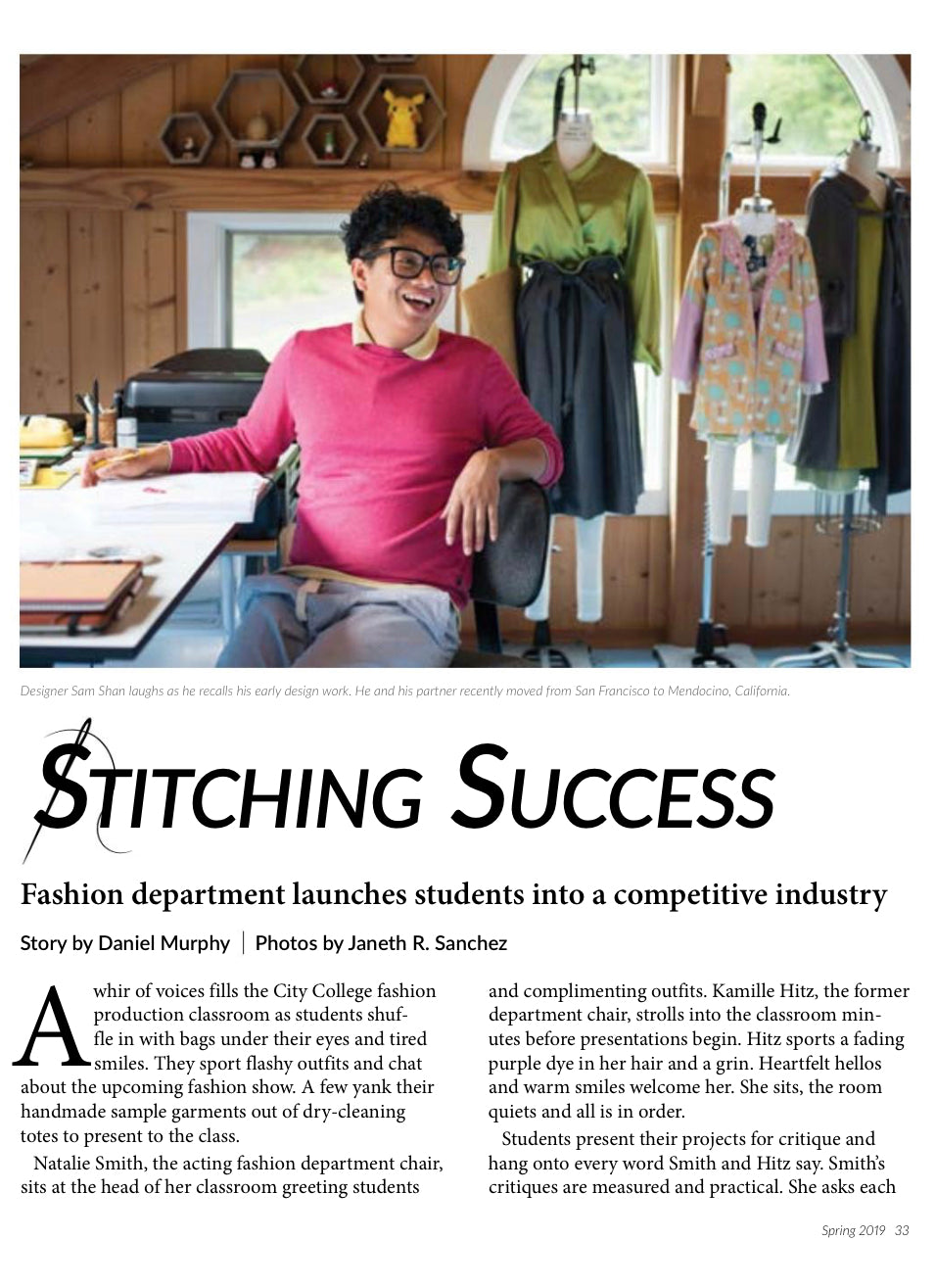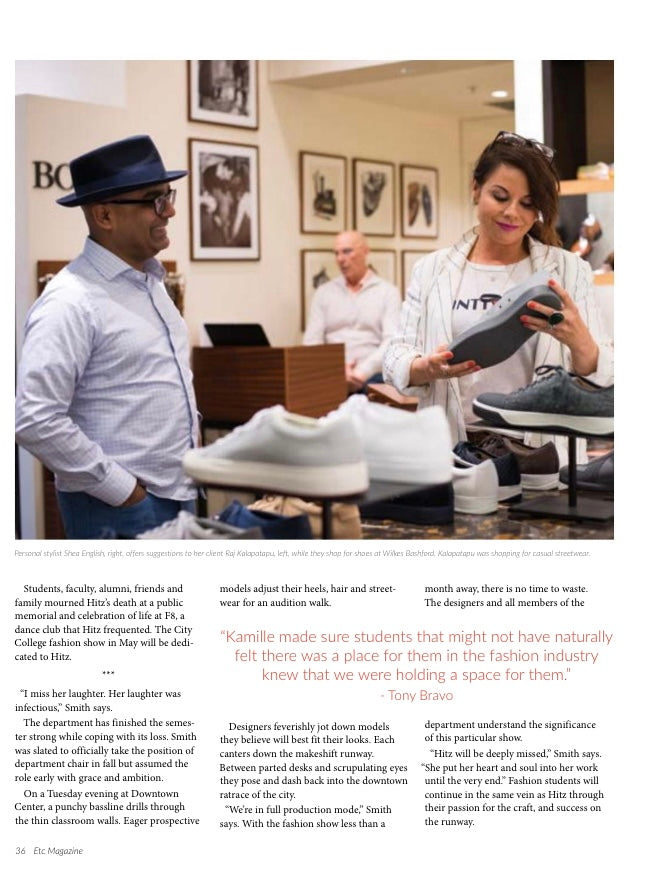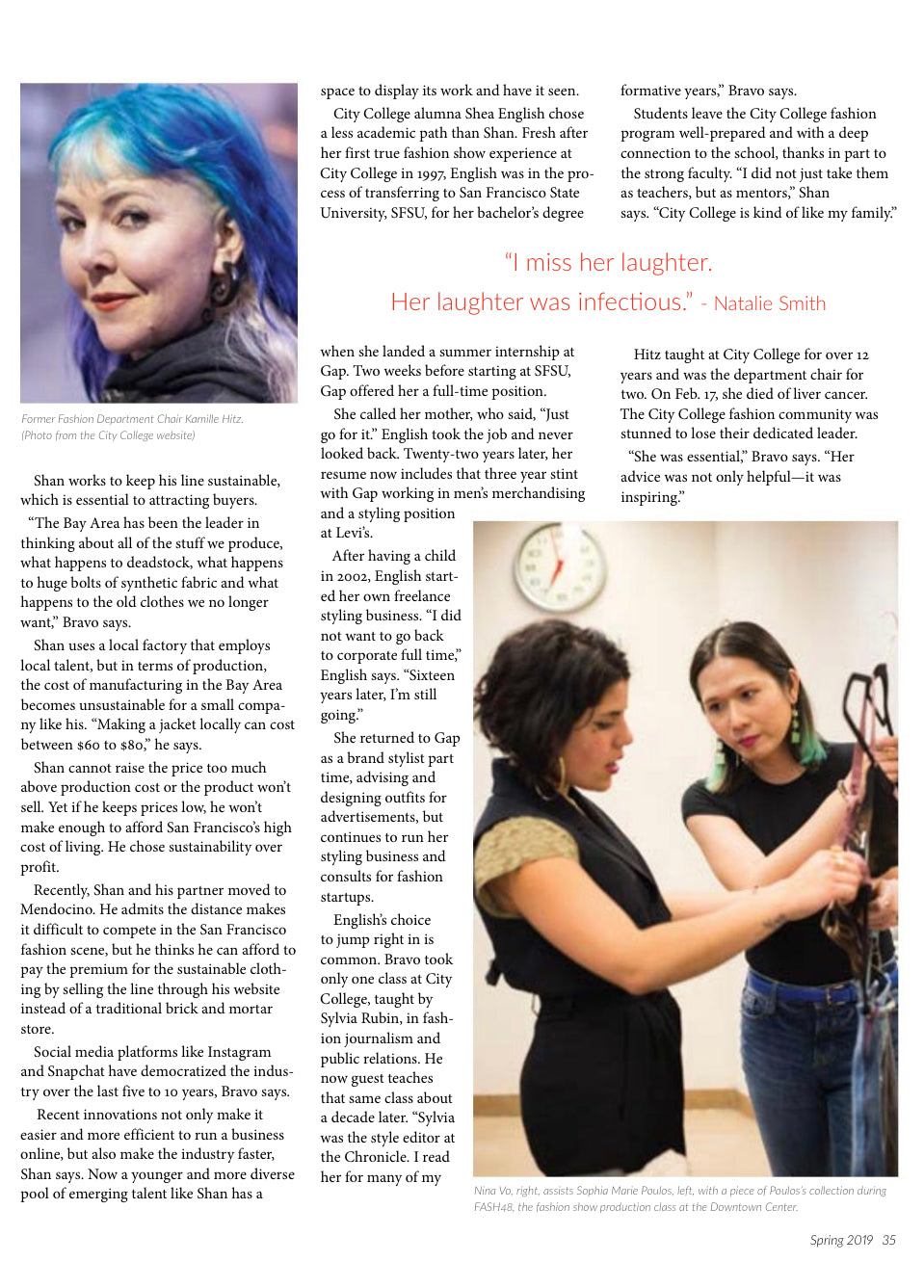 Kron4 News & S.F. Sustainable Fashion Week International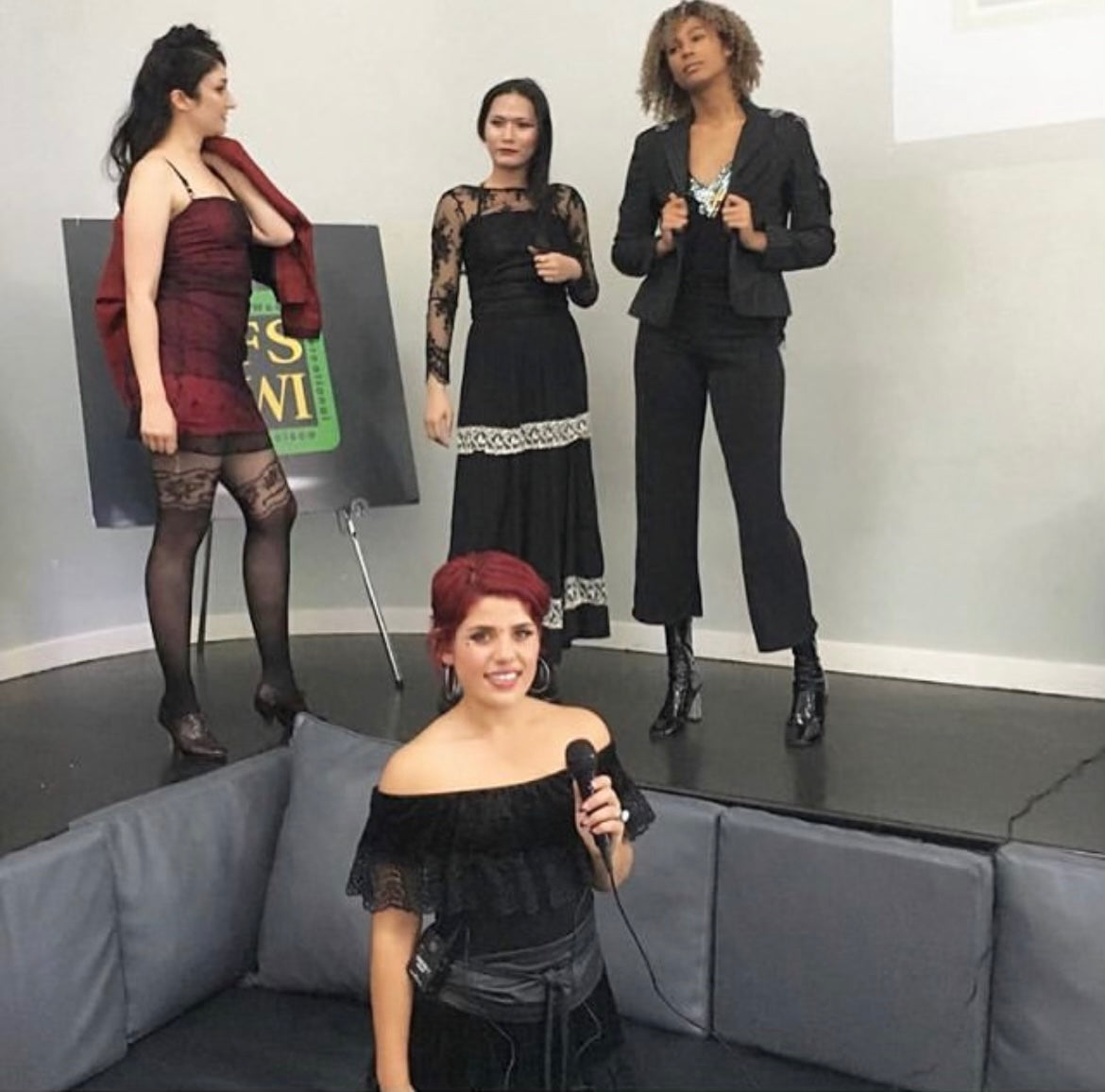 "Sophia Marie incorporates sustainable practices and supports creativity and individualism by customizing second-hand clothing to make something new and unique."
Raw Artists - Spring 2017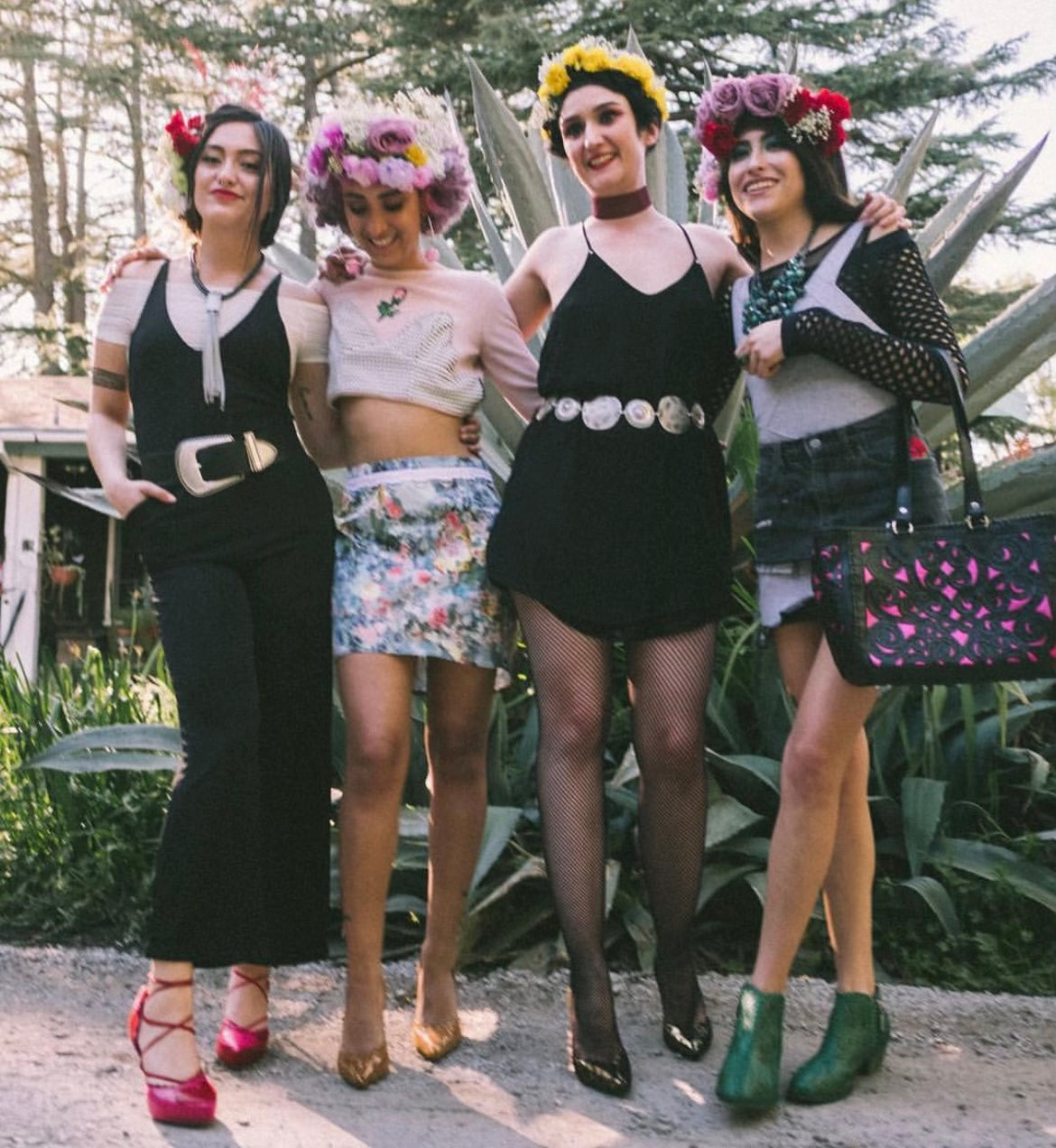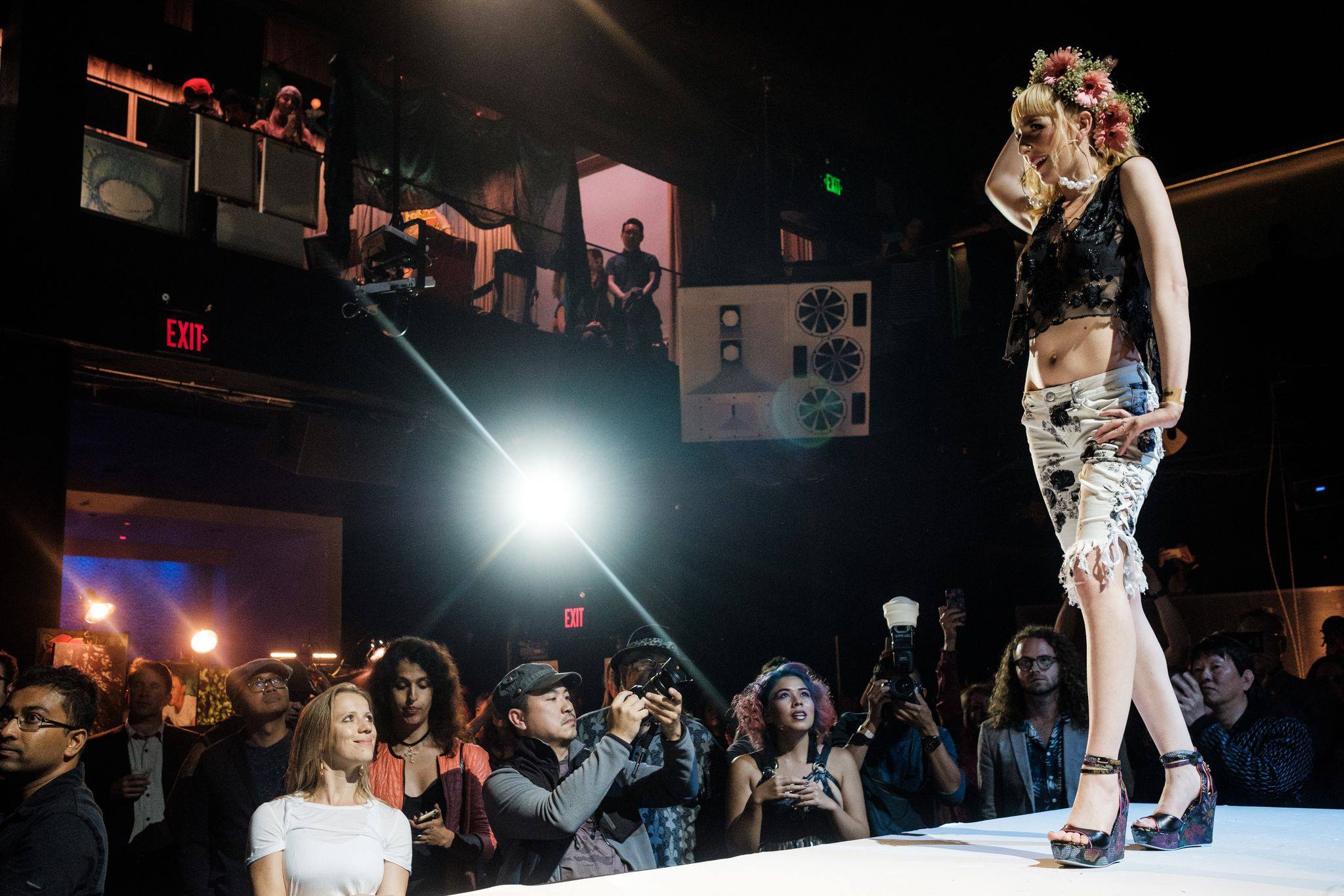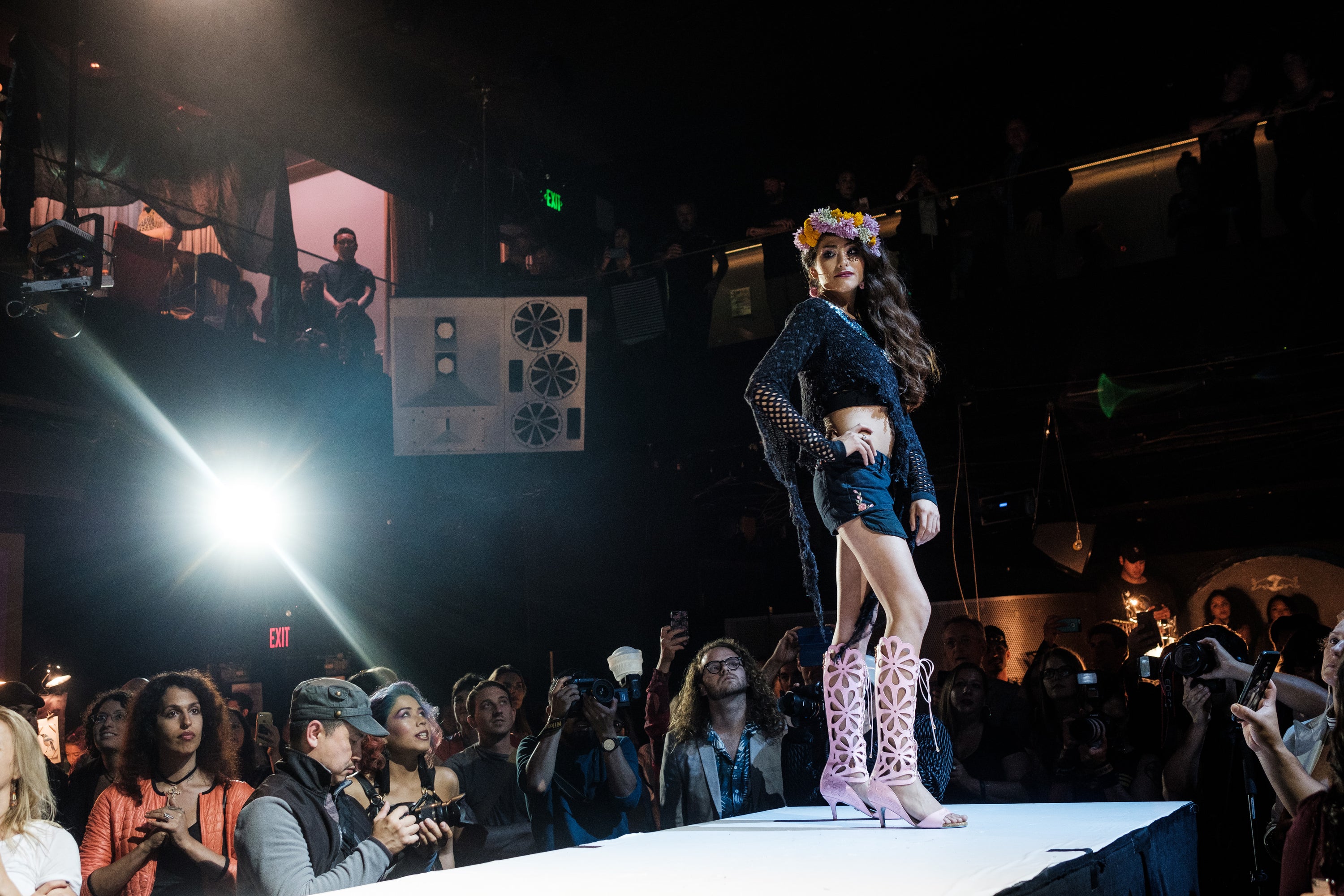 The Guardsman - Spring 2017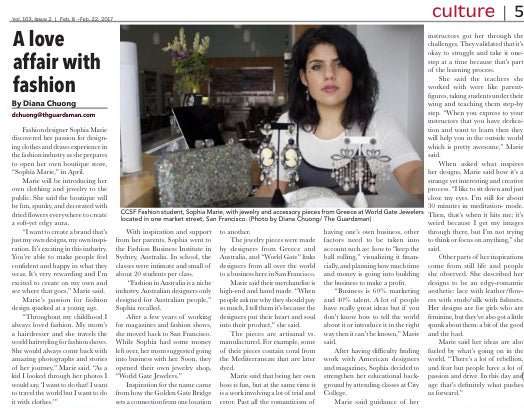 "A Love Affair with Fashion"